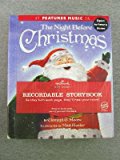 Recordable storybook. As they turn each page, they'll hear your voice as you read this classic holiday story.
Celebrate the season as the best-known and most beloved Christmas poem comes to life in this beautiful edition.
Features music. Voice save technology.
Read to loved ones… even if you can't be there.
Hardcover; 16 pages. Recordable.
Record yourself telling this classic holiday story.See More at PinXmas.net