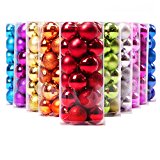 DESIGNEDC IN 3 TYPES: Shiny, Matte, Glitter drenched (24ct/Barrel).
PLASTIC MATERIAL: The material of ornaments features Light Weigh and Shatterproof for decoration.
SIZE & COLOR: 1.57"in, Blue.
QUALITY UPGRADING: Improvement in production technology, especially for the plating-on-plastics processes, thickness of the package have been made 2016, hope to bring you a better experience.
HANGING ROPE: This special hanging rope will allow you to build your collection quickly and decorate with more possibilities.
24-piece set Color: blue This special club pack will allow you to build your collection quickly and decorate with more possibilities Shatterproof ornaments.Unbreakable practicality of plastic Balls are equipped with gold ornament caps Pack of matchinSee More at PinXmas.net